Why you should incorporate your business.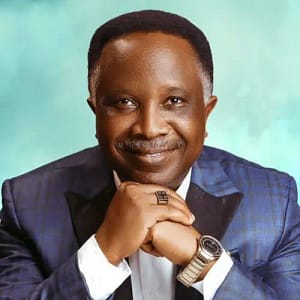 Professor A. Rowland Peters is the President and founder of International College of Ministry, (Nigeria, Cote-d'ivoire and Ghana), Affiliated with Ames Christian University (AISOM), U.S.A. A man called by God to be a Prophet and Teacher of God's Word. A member of the Evangelistic Messengers Association Inc., Clifton, Tennessee, U.S.A. since 1991.
A trained Quantity Surveyor turned preacher with certification from The City and Guilds of London Institute. He earned his PhD in Church Growth and Ministry from I.I.C.G, Affiliated to Kingsway Christian College and Theological Seminary, Des Moines, Iowa, U.S.A., And a Doctor of Ministry from Triune Biblical University, U.S.A.
Professor Peters is the author of over 6 books on BOOKTERIA, we are happy to have him as our Author of the month.
Enjoy his interview with our editorial team.
When did you start writing?
About 34 years ago, before I got married. I started by writing gospel tracts and later two-page newsletter publications that later metamorphosed into a 4-page quarterly teaching and newsletter publication as we have it today.
How will you perceive your writing style?
My writing style is both expository and persuasive.
Who are your target audience in your books?
Believers in general and church leaders in particular.
How do you manage your writing time with your other activities?
I set aside time for writing and schedule it for a time when I know I won't be distracted.
What do you like about your books?
The fact that it's transforming individual lives and various ministries as well
What feedbacks have you been receiving from your readers?
Many have been and are sharing with us the impact the books have made on their lives.
What do you do to spark inspiration for a new book?
I kept on reading other great authors as well as my Bible daily as a Christian author. Then, somewhere along the line, the urge or inspiration may come to write a book on a particular subject.
Which of your books do you like most and why?
Actually, all our 10 titles, including the one written by my wife, serve different purposes. If I must pick one, I will say, "How to Succeed in Your Assignment." The reason being that it's a book that captures my burden and ministry emphasis to Christian workers and church leaders.
What is your Writing process?
Prewriting is the first step. Having received or conceived the idea of what to write, I meditate and think through the subject, and I make sure I understand the subject. Then I take note of the thought on paper.
The next step is to carry out research. Among other things, I move on to search for relevant materials in my notebook or jotter, even past newsletter publications that might be useful or relevant to the current project. After that, I make a list of places where I can find information.
I then make a table of contents and start writing the draft copy.
Then I revise the draft and try to make it better.
Step 5: Then comes the final stage of editing and proofreading. Here is where my wife and office staff come in to make sure there are no typographical errors.
What is your advice for other Authors?
They should continue to write for posterity and not just for prosperity.
What book are you working on at the moment?
My wife and I are currently working to co-author a book on marriage, while I have 2 other titles on my table that I've yet to put together.
What legacy do you want to create through your books?
A lasting legacy that will positively influence many people to follow the principles outlined in the books.
What do you like about us at Bookteria?
The audacity and aggressiveness to compete favorably in the global market with Amazon, Barnes & Noble, and others.
Thank you, sir, for your time.
It's my pleasure.
Click Here to buy any of Prof Rowland Peters' books
Ps: Do you want to publish your books on BOOKTERIA? Click Here to become Bookterian author!
Why you should incorporate your business.